October is known for many things, but did you know that it is also the time when the National Down Syndrome Society (NDSS) strives to promote awareness of those members of our society who have Down syndrome (Ds)? It's a time for us to educate ourselves, promote inclusion and help showcase what people who happen to have Ds can accomplish!
Is Down syndrome common?
Down syndrome is the most common chromosomal condition diagnosed in the US. It occurs once in every 700 births. That's about 6000 babies each year. Ds is a condition, not a disease and is referred to as an "intellectual disability" or a "cognitive disability". It is also included when one refers to people who have an "IDD", which stands for "Intellectual and Developmental Disabilities".
When you hear the terms "cognitive disability", "intellectual disability" or even "IDD", in regards to someone with Down syndrome, you might think they may not be able to have an impact on our society like those of us without an IDD, but you would be wrong. Very, very wrong. People with Ds attend school, have relationships, drive, vote, have jobs and open businesses. Wait! What? Open a business? YES, open a business!
Have you met Matthew Schwab and Gabi Angelini?
I would like to introduce you to 2 young entrepreneurs here in the Raleigh area who also happen to have Down syndrome.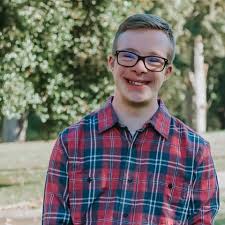 The first is Matthew Schwab. Matthew, 22, refers to himself as an Advocate, Ambassador, and a Public Speaker.  He has accomplished more in his life than I have in almost 50 years. He does so much in fact that someone could/should write a book about him!
In addition to being an advocate, ambassador and public speaker Matthew has worked for Chick-fil-A, is currently a paid employee at 321 Coffee as a roaster, is a volunteer member of the 321 Coffee advisory council and is the Co-President of GiGi's Playhouse youth advisory board. Additionally, Matthew was a paid summer intern for Representative John Bradford in the NC State Legislature, is an advocate for employing people with IDDs, is a public speaker, did a TEDx Talk (YES, a TED TALK!) and started his own business, Matthew Schwab Speaks. He also finds time to have a relationship with a special lady and is currently taking dance lessons. Wow!
Matthew is a wonderful example of how much one individual with Ds can add to our society. You can learn more about Matthew, hire him to speak, and purchase merchandise by visiting his website. You can also check out his videos on his YouTube channel.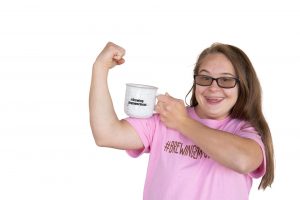 Next I would like to introduce you to a lovely young woman, Gabi Angelini. Gabi, a vivacious 23 year old who is a gymnast, skier, board member and entrepreneur who has Down syndrome. Yes, that's right, she is an entrepreneur too! Gabi is the Co-Founder of Gabi's Grounds.
Gabi, formerly a bagger at a local supermarket (pre-COVID), experienced difficulty in the past getting additional work to supplement her job as a bagger. After getting turned down over and over, Gabi's mother, Mary Angelini decided they needed to take matters into their own hands. Gabi decided a coffee shop was what she wanted to do so, Mary and Gabi set out to make that happen and started Gabi's Grounds.
The mission of Gabi's Grounds is "To empower the special abilities community to find their place in the world and enjoy fulfilment in everything they do." And clearly, that includes jobs and being an entrepreneur!
Currently Gabi's Grounds offers a variety of coffees and other treats for sale on her website.  Her coffee is also sold locally at Harris Teeter, Lowes Foods, Publix, Earth Fare and Weaver Street Market. Gabi has worked hard to promote her coffee and her business. Gabi's goal is to employ her friends and others with Ds as well as provide a space for fun! Recently she acquired a warehouse at The Loading Dock in Raleigh. There they pack and ship orders, pack gift boxes and even create candles. Additionally, there is a pop up shop at The Loading Dock every 4th Tuesday of each month from 9-11am.
In addition to all of this, Gabi does bedtime stories on Facebook live Tuesdays at 7pm and on Thursdays at 7pm she interviews entrepreneurs like herself. If you would like to help make Gabi's dream come true, please consider purchasing client gifts, and merchandise at her website or feel free to donate to her GoFundMe.
Both Matthew and Gabi are working hard to help people understand that people with Down syndrome and other IDDs can be contributors to the community through employment. Unfortunately the Population with Disabilities (PWD) in the US is grossly underserved with about 82% being unemployed! That is unbelievable but true. Matthew and Gabi know that people with IDDs are highly employable and can achieve big goals. Through advocacy, Matthew and Gabi plan to change that statistic! I'd say they are already doing a great job of doing just that!
How do I get involved?
If you would like to be involved and help spread awareness of people with Ds and all of their amazing abilities, promote inclusion and acceptance, please consider joining the Buddy Walk. The Buddy Walk is held each year by the National Down Syndrome Society. For more info on the walk or to learn more about Down syndrome, please visit https://www.NDSS.org/